A NEW PARADIGM IN
GUEST SECURITY & CONVENIENCE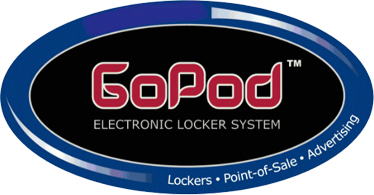 Offering Multiple Ways to Bring Secure Storage To Your Venue Generating Revenue & Increasing Guest Satisfaction
GoPod™ Electronic Locker Solution
Using patent pending technology, GoPod Electronic Lockers feature networked kiosks with intelligent keypads on every locker door allowing guests to quickly store valuables. Along with diminishing long lines and increasing guest satisfaction, GoPod helps properties increase revenue and strengthen marketing as the customizable kiosks promote onsite amenities, advertising, and more.
Feature your property and drive guests to onsite restaurants and gift shops.
Receive premiums from local establishments to advertise on an audience-targeted, high traffic medium.
Create enticing ads with eye-catching slideshows and banners.
Boost sales by promoting upcoming events and unique services.
Promote frequent guest programs and sister properties.
WHAT OUR CUSTOMERS ARE SAYING
"We Love our new lockers from Best Lockers. Our customers love the convenience of not having to keep up with a key and being able to share their own private code with members of their family. They have been trouble free and Best Locker has given us excellent customer service."
Charlotte Gonzalez, Owner, Beech Bend Park
"Installing Best Lockers in the water park was the best thing we could have done this year. It helps streamline operations at our Tube and Locker area, and allowed for us to better serve our customers. Customers enjoyed not having keys to keep up with in the park, and how easy the lockers were to use."
Meg McGuire, Operations Manager, Safari Joe's H2O
"Here at the Rogers Aquatics Center, we LOVE our Best Lockers! The Kiosk is customer friendly and easy to use. Our guests like the variety of sizes offered. And my Maintenance staff love that they are practically maintenance free!"
Leanne Jacobson, Aquatics Supervisor, The Rogers Aquatics Center
"Switching over to Best Lockers was one of the best decisions that we have made at the park. We were able to save money on our personnel budget by not having to keep staff on to take in keys and give back key deposits. We are extremely happy with Best Lockers."
Mike Flinn, Aquatics General Manager, Baytown Parks and Recreation
"The lockers and technology always work flawlessly, combine that with excellent customer service is what makes Best Lockers the best!"
Chris Nawracaj, General Manager, Deep River Waterpark